USDJPY Technical Analysis June 9/2019
USDJPY 15 Minute Chart June 8/2019: A bearish view can be seen on the 15 minute chart. In the chart below, price has broken below the previous higher low level (purple) which can be signalling that USDJPY may now shift and move lower to make newer lows. Breaking below the previous higher low level has stopped the higher high/higher low upside sequence (purple)  and can be showing the upside move has had enough for the moment.  Another sign that USDJPY can continue moving lower is that the moving average has also broken below previous higher low level (light blue). Also it is clearly visible that the moving average upside sequence (light blue) has now broken below the black MA channel supporting the view that USDJPY can make another round lower in the coming week.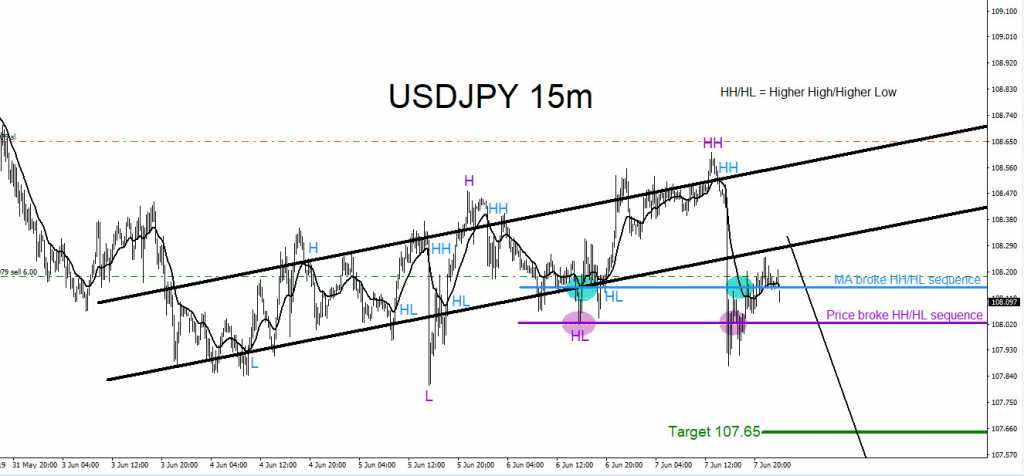 USDJPY 5 Minute Chart June 8/2019 : In the 5 minute chart below, a possible bearish flag breakout pattern can be forming. A break below the previous higher low (HL) and a break below the bottom line of the bearish flag can signal that USDJPY will continue lower. I posted the SELL on Twitter June 7/2019 at around 1:10 pm EDT > "Sold USDJPY @ 108.15 SL @ 108.65 TP @ 107.65". Price can still make another push higher but as long as price stays below 108.62 we will remain bearish. Only time will tell if USDJPY breaks higher or lower.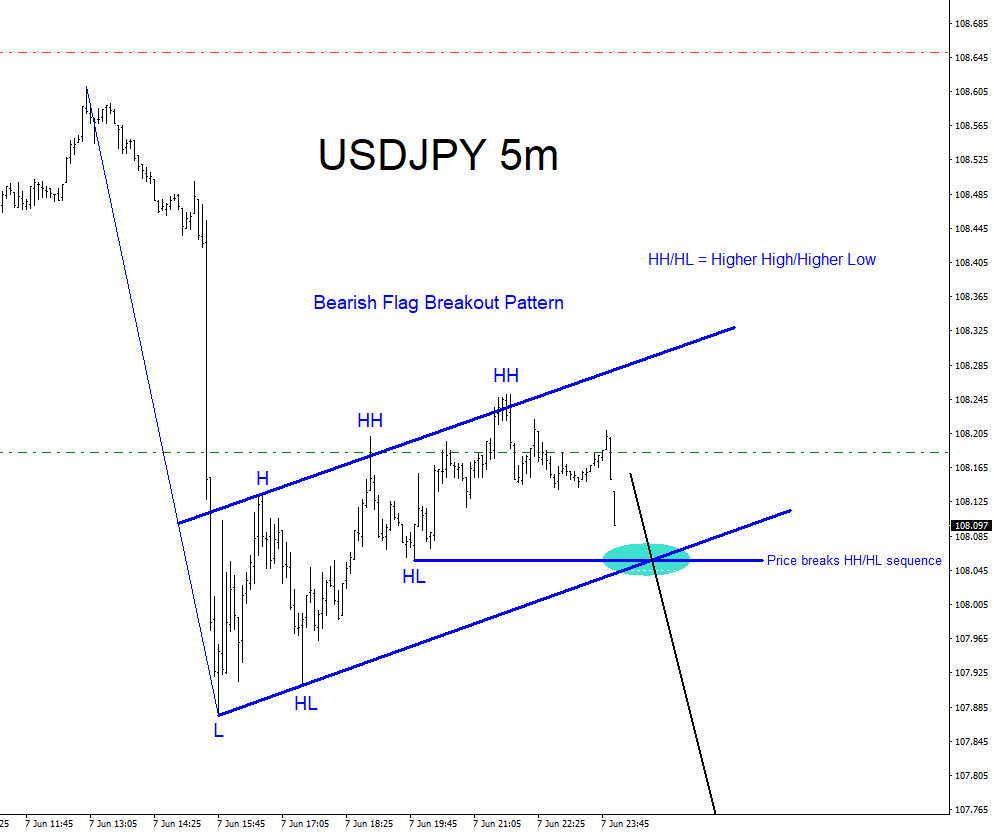 Of course, like any strategy/technique, there will be times when the strategy/technique fails so proper money/risk management should always be used on every trade.  Hope you enjoyed this article and follow me on Twitter for updates and questions> @AidanFX  or chat me on Skype > EWF Aidan Chan
*** Always use proper risk/money management according to your account size ***
At Elliottwave-Forecast we cover 78 instruments (Forex, Commodities, Indices, Stocks and ETFs) in 4 different timeframes and we offer 5 Live Session Webinars everyday. We do Daily Technical Videos, Elliott Wave Trade Setup Videos  and we have a 24 Chat Room. Our clients are always in the loop for the next market move.
Try Elliottwave-Forecast for 14 days FREE !!!   Just click here –> 14 day FREE trial
Back