The accumulation, manipulation, distribution market pattern happens everyday in the markets. On November 8 2023 this pattern was visible on the GBPUSD pair during the New York session hours.
The manipulation phase followed by the distribution phase usually occurs during the 1:30am to 4:30am EST hours during the London session and the 7:30am to 10:30am EST hours during the New York session.
GBPUSD 5 Minute Chart 11.8.2023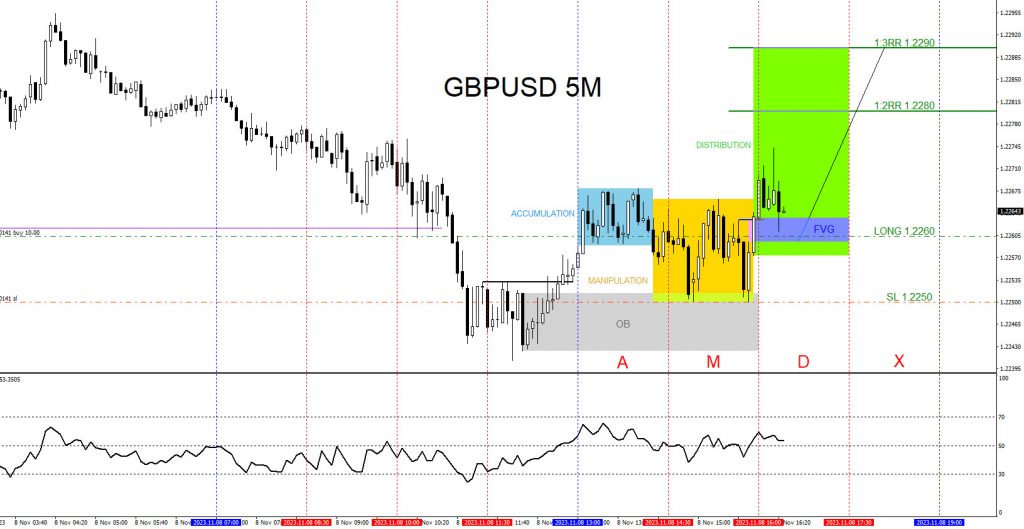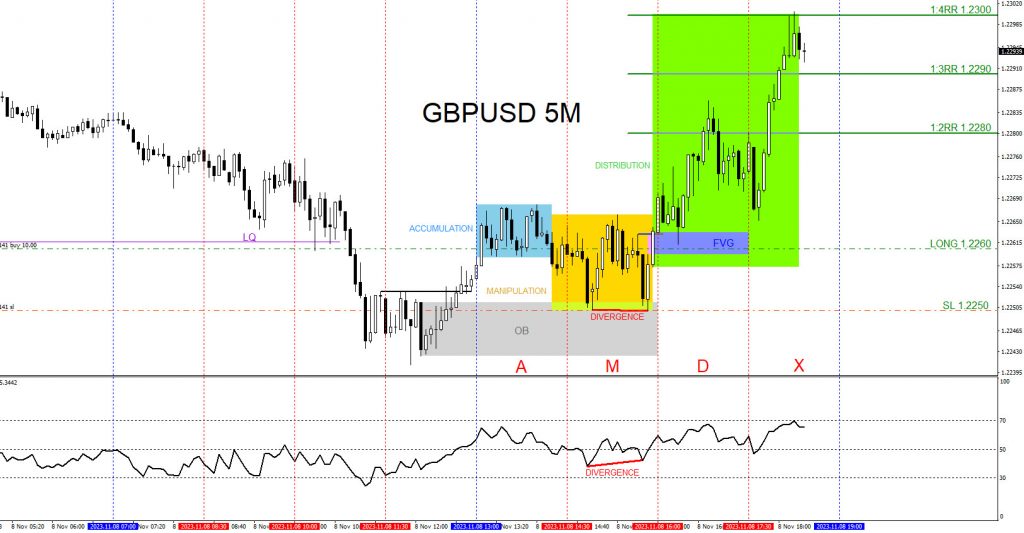 Buy trade was entered during the New York manipulation hours (Red M). Trade was entered after price respected and tapped the bullish order block (Gray box) and formed a bullish divergence pattern on RSI indicator (Red). Entered at 1.2260 with a tight 10 pip stop loss at 1.2250. GBPUSD moved higher to the 1:4 Risk/Reward target (1.2300) where the trade was closed for +40 pips. (4% gain risking 1% on every trade)
A trader should always have multiple strategies all lined up before entering a trade. Never trade off one simple strategy. When multiple strategies all line up it allows a trader to see a clearer trade setup. If you followed me on social media you too could have caught the GBPUSD move higher. We at EWF never say we are always right. No market service provider can forecast markets with 100% accuracy. Only thing we at EWF 100%, is that we are RIGHT more than we are WRONG.
Of course, like any strategy/technique, there will be times when the strategy/technique fails so proper money/risk management should always be used on every trade.  Hope you enjoyed this article and follow me on social media for updates and questions> @AidanFX
At Elliottwave-Forecast we cover 78 instruments (Forex, Commodities, Indices, Cryptos, Stocks and ETFs) in 4 different time frames and we offer 5 Live Session Webinars everyday. We do Daily Technical Videos, Elliott Wave Trade Setup Videos  and we have a 24 Hour Chat Room. Our clients are always in the loop for the next market move.
Try Elliottwave-Forecast for 14 days !!!   Just click here –> 14 day trial
Back