GBPAUD Technical Analysis
GBPAUD : On July 30/2019 the pair found a bottom and has bounced higher since. GBPAUD, on the daily chart, has been making higher highs and higher lows from the July 30/2019 lows indicating that the pair is trending to the upside. Trading with the trend is always recommended at EWF. After the first week of November 2019 I started posting on social media that buying signals were starting to form and that the pair would bounce higher.
StockTwits/Twitter November 7/2019
Posted on social media to watch for buying opportunities and that the pair would bounce higher.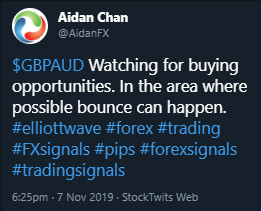 StockTwits/Twitter November 7/2019
Posted on social media the key breakout level where more bulls/buyers will enter the market to push price higher (1.8715)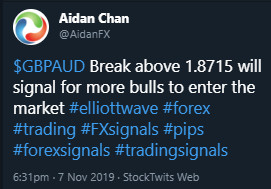 GBPAUD Daily Chart November 12.2019
The chart below shows a higher high/higher low sequence on the daily chart which was a signal to traders to look for buying opportunities. The blue bullish pattern, that completely formed in September 2019, signalled bulls/buyers to enter the market which then eventually led to the confirmation that GBPAUD was in a upside trend that we are currently in. A bullish trend continuation divergence (green) was also clearly visible which also signalled a trader to only look for buying opportunities and to trade with the trend and not against it. Trend continuation divergence (hidden divergence) is when price is making a higher low (HL), but the oscillator is showing a lower low (LL). November 12/2019 I posted this chart on social media that the signal to BUY was the clearest choice to take and to watch for the pair to hit the targets on the move higher.
(Entered 1st BUY entry November 8/2019 on the Daily candle open. Entered 2nd BUY entry on the break above 1.8715.)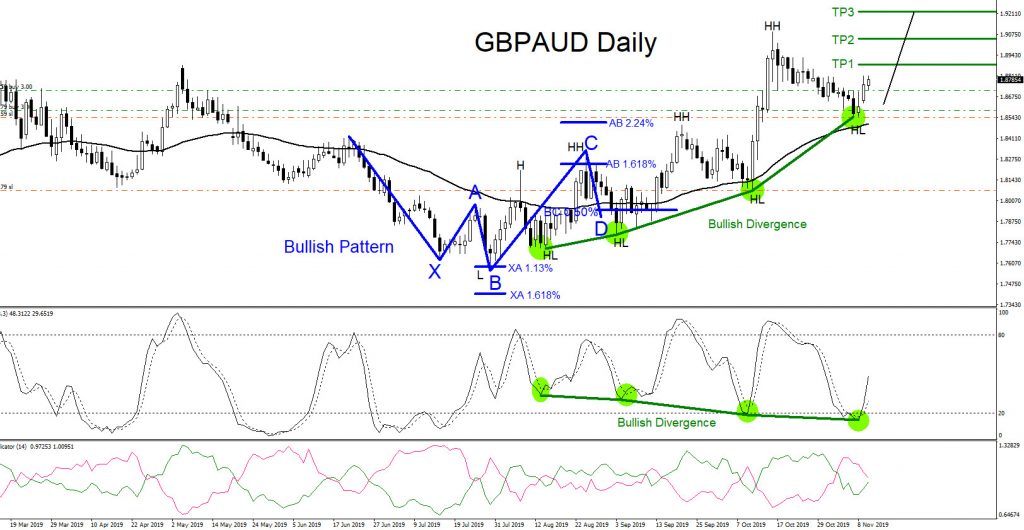 GBPAUD Daily Chart December 10.2019
By December 10/2019 GBPAUD rallied over +800 pips higher and has hit the projected targets that I called back in November 2019.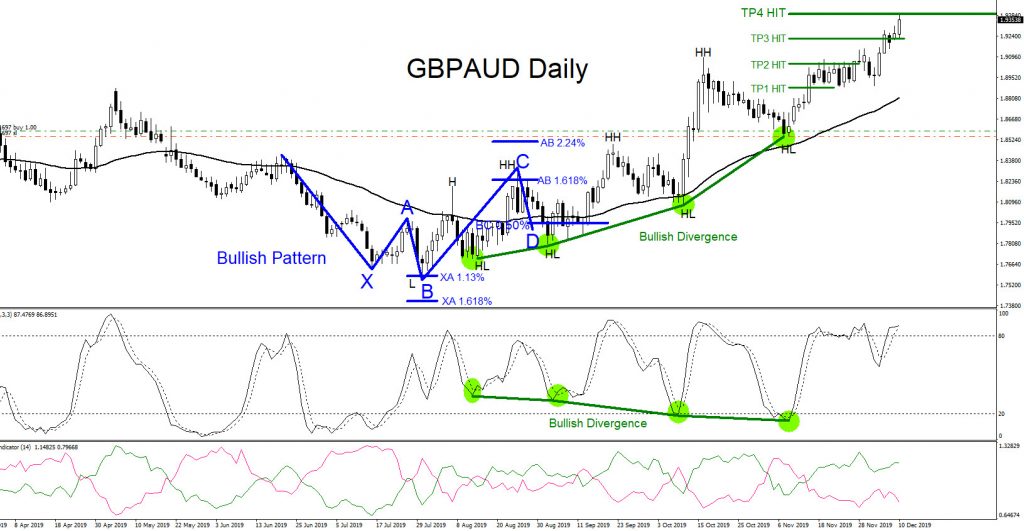 Of course, like any strategy/technique, there will be times when the strategy/technique fails so proper money/risk management should always be used on every trade.  Hope you enjoyed this article and follow me on Twitter for updates and questions> @AidanFX  or chat me on Skype > EWF Aidan Chan
*** Always use proper risk/money management according to your account size ***
At Elliottwave-Forecast we cover 78 instruments (Forex, Commodities, Indices, Stocks and ETFs) in 4 different timeframes and we offer 5 Live Session Webinars everyday. We do Daily Technical Videos, Elliott Wave Trade Setup Videos  and we have a 24 Chat Room. Our clients are always in the loop for the next market move.
Try Elliottwave-Forecast for 14 days FREE !!!   Just click here –> 14 day FREE trial
Back