EURUSD on April 23/2017 spiked higher at the open of the new trading week. A technical trader is never really concerned as to why the market spiked or dropped but more concerned in how to profit from the drastic market move. After the spike higher it became clear in which direction EURUSD wanted to take and that another push higher was going to come in the following days. Elliott Wave analysis we presented to our clients the following days clearly shows that more upside was to come. At Elliottwave-Forecast we are committed in giving our clients the best service we can offer and after EURUSD spiked higher the EWF team was quick to present and update charts so our members knew what to expect in the coming sessions.
If you bought the pair the weeks prior and still was holding the trade than you received a bonus at the April 23/2017 open. Kudos !! Me personally I was not in any EURUSD positions but after the spike higher the trade setup bullish scenario emerged.
EURUSD 1 Hour Chart Elliott Wave Analysis April 23/2017: After the spike higher we advised clients that more upside was to come.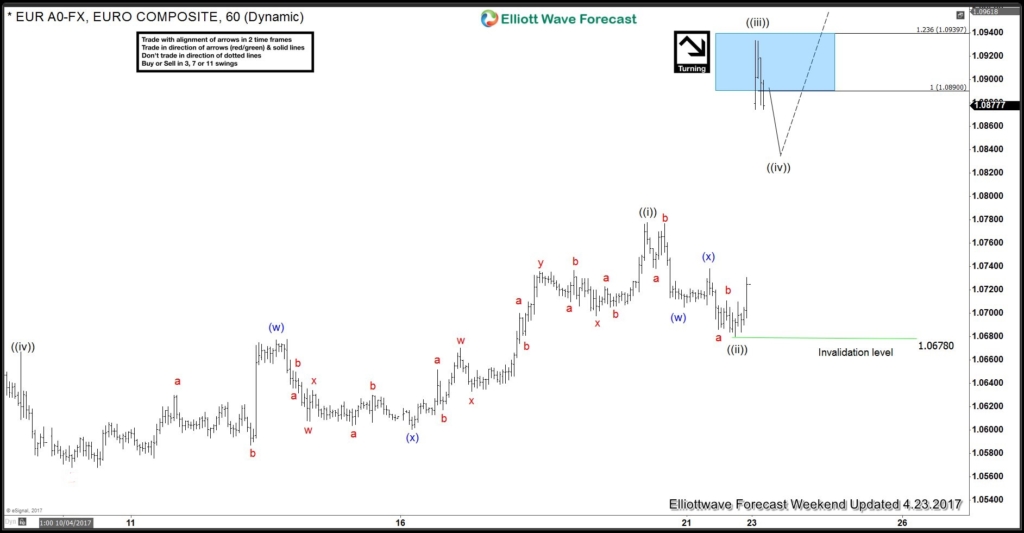 EURUSD 1 Hour Chart Elliott Wave Analysis April 24/2017: Our bias remained the same and we continued advising clients the pair was going higher.
EURUSD 30m Chart April 25/2017: Elliott Wave wave count is calling higher and a bullish pennant pattern emerges (red). The breakout level above the pennant pattern also coincided with a price action breakout entry/strategy (See strategy here > Trading Momentum Price Action Breakouts) that I use when trading. Risk/reward targets were reached for an easy 60-80 pips. Always know your stops and targets before entering any trade. When you follow an Elliottwave-Forecast (EWF) chart you always know which side to trade.
Of course, like any strategy/technique, there will be times when the strategy/technique fails so proper money/risk management should always be used on every trade.  Hope you enjoyed this article and follow me on Twitter for updates and questions> @AidanFX  or chat me on Skype > EWF Aidan Chan
*** Always use proper risk/money management according to your account size ***
At Elliottwave-Forecast we cover 52 instruments (Forex, Commodities, Indices) in 4 different timeframes and we offer 3 Live Session Webinars everyday. We do Daily Technical Videos, Elliott Wave Trade Setup Videos  and we have a 24 Chat Room. Our clients are always in the loop for the next market move.
Try Elliottwave-Forecast for 14 days FREE !!!   Just click here –> 14 day FREE trial
Back