On January 10 2022 I posted on social media @AidanFX  " CADJPY LONG/BUY at 91.06 SL/Stop Loss at 90.62 TP/Take Profit at the 91.50-91.72 area."
Confluence trading is a combination of two or more trading strategies/techniques that come together and form a high probability buy/sell zone in a certain area in the market. Market patterns (Elliott Waves, Harmonic, Head and Shoulders etc.), price action analysis (Support & Resistance, Supply & Demand Zones, Candlestick analysis etc.) and indicators (RSI, Moving Average, Stochastic etc.) are technical strategies/techniques used when trading a  confluence setup. The charts below show a confluence trade setup that signals a trader on which side to take the trade.
BUY Trade Setup
1. RSI Indicator Bullish Trend Reversal Divergence (Pink)
2. Price bounces off the Dynamic Support 200 MA (Black)
3. RSI triggers BUY above the 50 level
4. MACD triggers BUY cross
CADJPY 1 Hour Chart January 10 2022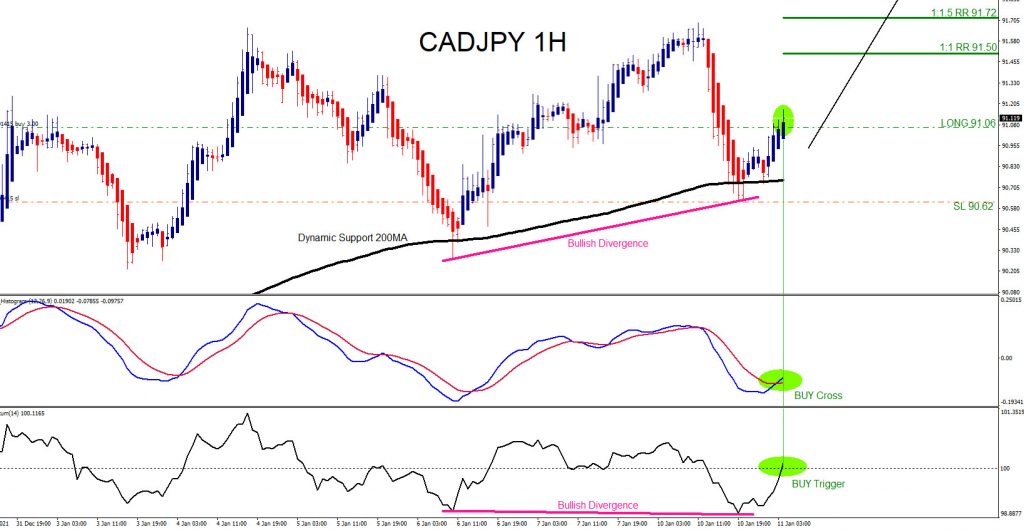 Entered the BUY trade at 91.06 with Stop Loss at 90.62 and  Targets at the 1:1 RR minimum with full target at the 1:2 RR. CADJPY moves higher and on January 12 2022 price hits 1:2 RR target at 91.94 from 91.06 for +88 pips (+2% gain risking 1% on every trade)
CADJPY 1 Hour Chart January 12 2022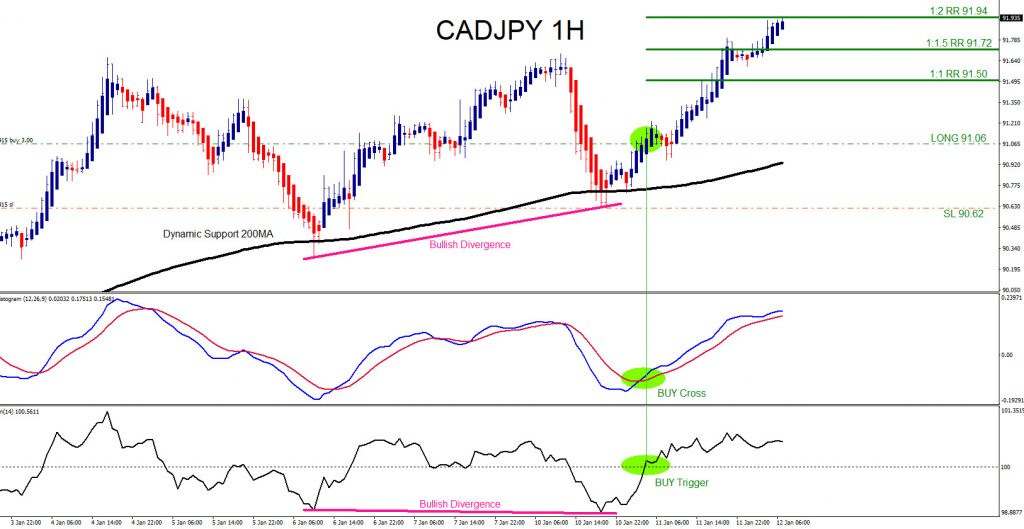 A trader should always have multiple strategies all lined up before entering a trade. Never trade off 1 simple strategy. When multiple strategies all line up it allows a trader to see a clearer trade setup. If you followed me on social media you too could have caught the CADJPY move higher. We at EWF never say we are always right. No market service provider can forecast markets with 100% accuracy. Only thing we at EWF 100%, is that we are RIGHT more than we are WRONG.
Of course, like any strategy/technique, there will be times when the strategy/technique fails so proper money/risk management should always be used on every trade.  Hope you enjoyed this article and follow me on social media for updates and questions> @AidanFX
At Elliottwave-Forecast we cover 78 instruments (Forex, Commodities, Indices, Cryptos, Stocks and ETFs) in 4 different time frames and we offer 5 Live Session Webinars everyday. We do Daily Technical Videos, Elliott Wave Trade Setup Videos  and we have a 24 Hour Chat Room. Our clients are always in the loop for the next market move.
Try Elliottwave-Forecast for 14 days !!!   Just click here –> 14 day trial
Back