In this Technical blog, we are going to take a quick look at the past  Elliott wave chart performance of  AUDNZD. Which we presented to our clients. We are going to explain the structure and the forecast. As our members know, we were pointing out that AUDNZD is having lower low bearish sequence from October 24.2017 peak. We advised our members to avoid buying it and keep selling the bounces in 3, 7 or 11 swings as the mentioned cycle from the October 24.2017 peak was incomplete to the downside.
AUDNZD February 07.2018 4 Hour Elliott Wave Analysis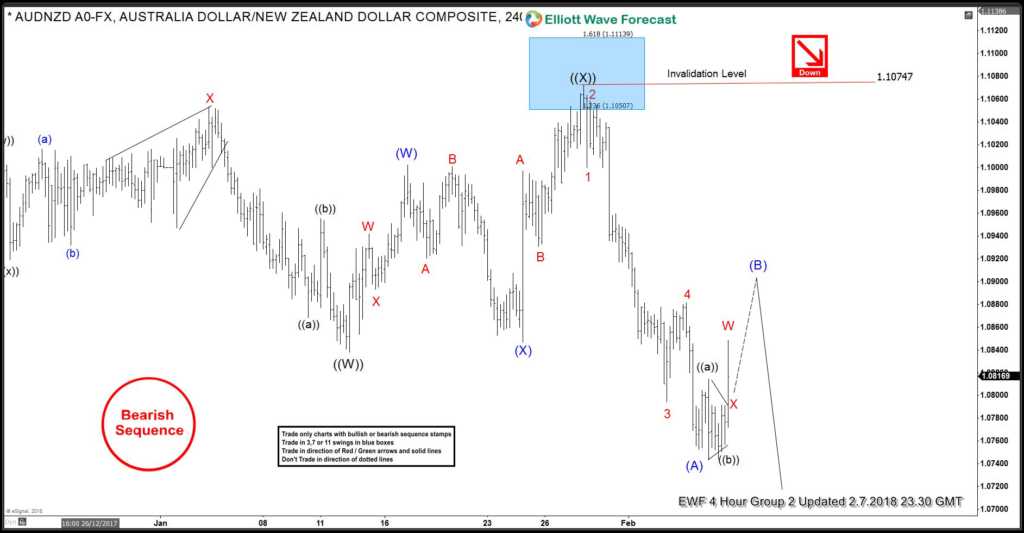 Above is the 4hr updated Chart from February 07.2018, in which the pair was showing the incomplete 5 swings bearish sequence to the downside from 10.24.2017 peak.  And the pair was expected to see more downside within that as far as bounces fail below January 29.2018 peak (1.1074). It is also important to note that, in the above Chart, we can see that there is a red arrow to indicate that the trend is to the downside, the bearish Sequence mark to maintain the sequence is also bearish.
Moreover, the decline from 1/29 peak (1.1074) also unfolded in 5 waves Elliott wave sequence, which is also a motive sequence thus suggest that the pair should fail below 1/29 peak (1.1074) for another 5 waves lower at least into the direction of the first leg. So our strategy was to sell the intermediate wave (B) bounce in a sequence of 3, 7 or 11 swings against the pivot from 1/29 peak (1.10733) for further downside extension.
AUDNZD February 8.2018 1 Hour Asia Updated Chart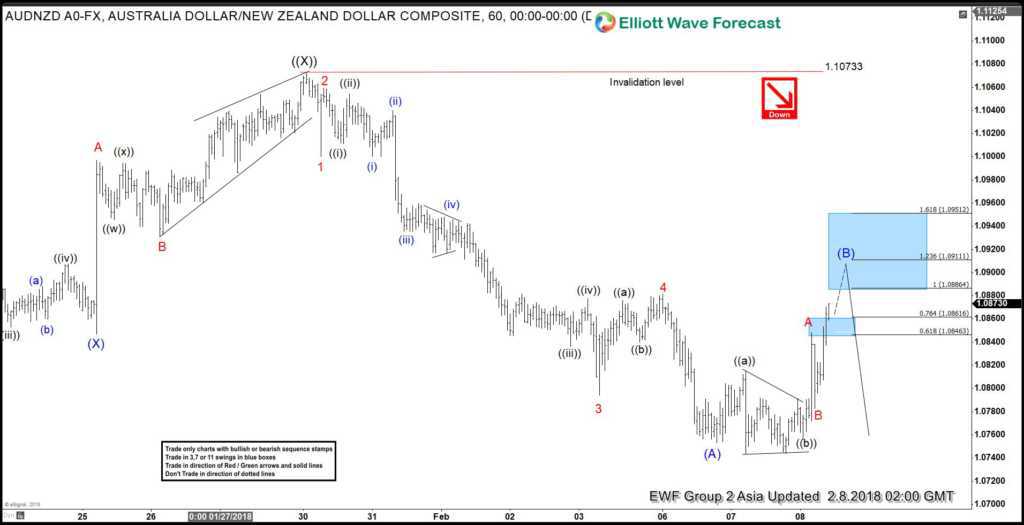 The pair made a 3 wave bounce in intermediate wave (B) bounce in a Zig-zag Elliott Wave pattern and found seller's as expected, after reaching the blue box area at 100%-123.6% Fibonacci extension area (1.0886-1.0911). Afterwards, the pair made a new low below the previous wave (A) low (1.0744) thus suggest that the next extension lower in (C) leg has started. Here's 4 Hour updated Chart from 2.21.2018
 AUDNZD February 21.2018 4 Hour Updated Chart
In the above 4 Hour Chart, the pair already showing lower low sequence from the Intermediate wave (B) bounce thus confirmed the next extension lower in Intermediate wave (C ) and shorts from 1.0886 should already be in a risk free position.
Keep in mind that the market is dynamic and the view could change in the meantime. Success in trading requires proper risk and money management as well as an understanding of Elliott Wave theory, cycle analysis, and correlation. We have developed a very good trading strategy that defines the entry.
Stop loss and take profit levels with high accuracy and allows you to take a risk-free position, shortly after taking it by protecting your wallet. If you want to learn all about it and become a professional trader then try EWF and trade our Blue Boxes with a special deal. Click here to get 30% discount on all monthly plans.
Back