Most Elliott Wave Practitioners think that 5 wave move off a high / low provides them with a Trading Edge as according to Elliott Wave Theory, a 5 wave move should be followed by 3 waves back and another 5 wave move in the direction of the first 5 wave move. Experience has taught us that many a times, 5 wave moves can turn out to be part of an Elliott Wave FLAT which is a 3-3-5 structure and if so, representing the end of a corrective cycle rather than start of a new cycle and hence setting a trap for the traders. Therefore, we at Elliottwave-Forecast rely more on Swing Sequences than 5 wave moves to look for our "Trading Edge".
Markets move in either Impulsive Sequences or Corrective Sequences. 5,9,13,17 and so on is an impulsive sequence whereas 3,7,11,15 and so on is a corrective sequence. We believe every Elliott wave practitioner in particular and trader in general should understand the swing sequences to get a better accuracy in their forecasts and avoid getting into traps which are often laid out by the market. As we know that 7 is a corrective sequence so if we see 5 swings up with biggest correction  in the middle (which is too big to be wave 4 of an impulse), then we know the sequence is incomplete and it presents a "Trading Edge" to buy the 6th swing pull back to trade the 7th swing higher. Below, we will present an example of EURAUD forex pair showing 5 swings sequence up from 7/19 (1.4418) low suggesting the sequence is bullish against 9/20 (1.4785) low and 6th swing pull back should represent a buy opportunity in 3, 7 or 11 swings with a target of 1.5543 – 1.5722 area.
EURAUD 5 swings sequence provides a "Trading Edge"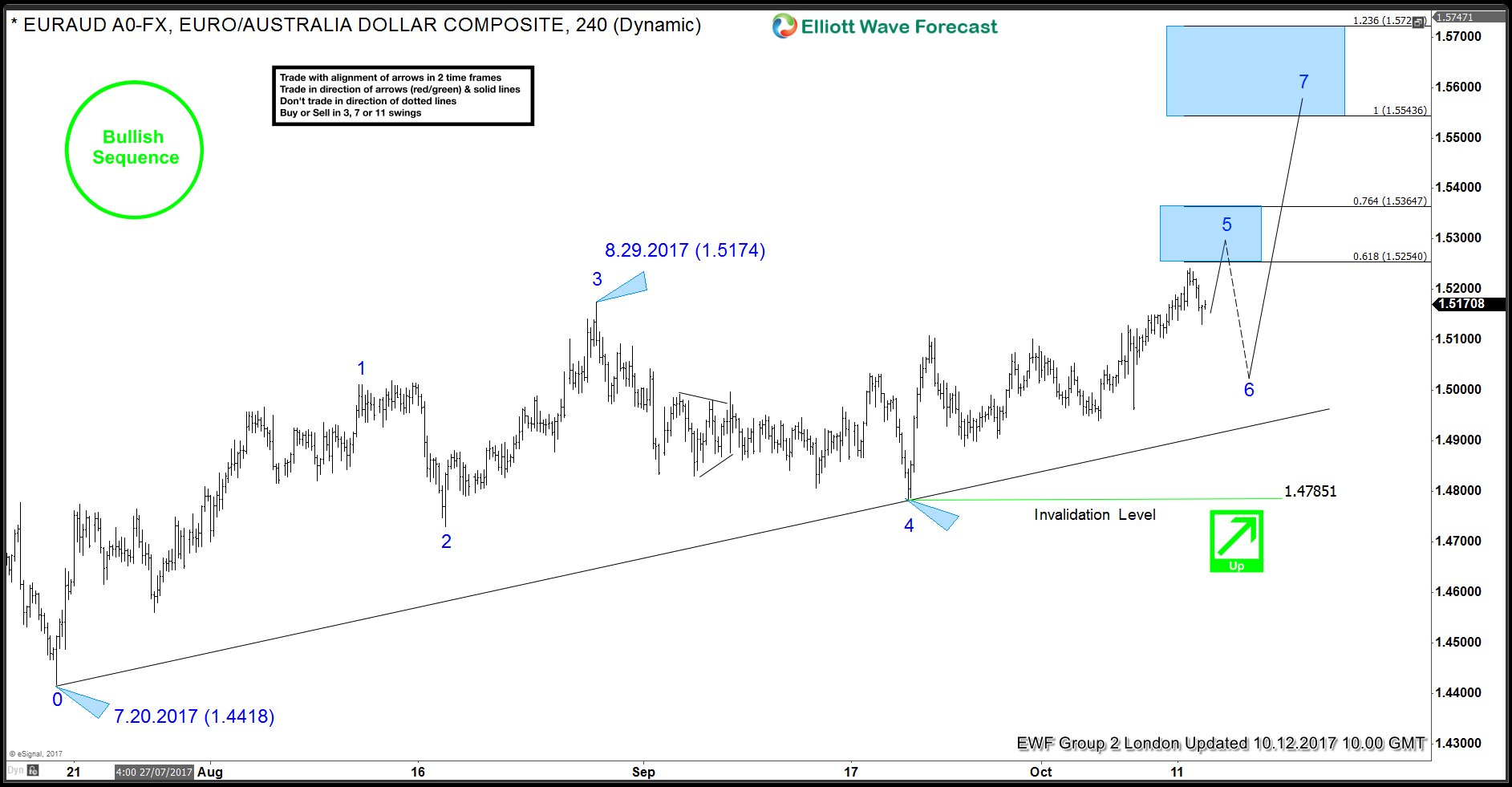 We understand that not all traders are able to identify these incomplete sequences which provide a "Trading Edge" to traders, so when ever we spot an Incomplete swings sequence on our charts, we put a Bullish Sequence or Bearish Sequence stamp on the chart for our clients to know they should be looking to buy or sell that particular instrument in 3, 7 or 11 swings. Not every instrument has a Bullish or Bearish sequence all the time but we cover 78 instruments in total so there are always some showing Bullish or Bearish swings sequence in different time frames. If you would also like to get access to our forecasts and charts showing Bullish or Bearish Sequence stamps, start your Free 14 days Trial today. If you have been a member or taken trial in the past, sign up for a Subscription plan  and learn to trade the sequence and get ahead of the crowd.
Back