TransDigm Group Inc (NYSE: TDG), a leading player in the aerospace industry, has been making significant strides in recent times. Despite facing challenges in the market, the company has managed to maintain a strong upward trajectory. This article aims to dive into the Elliott Wave technical analysis of TransDigm Group's stock, exploring the bullish patterns and potential opportunities that lie ahead for investors.
TDG rally off 2020 low is proposed to be within an extended 3rd wave which is usually the longest and strongest wave within the cycle. The stock should present daily investment opportunities during corrective pullbacks while it holds above $499 low.

TDG managed to created a bullish sequence earlier this year after breaking above 2021 peak. The move higher opened more weekly upside toward equal legs area at $988 – $1291. Consequently, buyers should be looking to buy the next pullback in wave ((2)) after it ends the cycle from October 2022.
With a bullish technical outlook and increasing demand for aerospace products, TransDigm Group Inc (NYSE: TDG) is well-positioned for long-term success. As the company continues to navigate market challenges, its strong performance and growth potential make it an attractive investment opportunity.
TDG Elliott Wave Weekly Chart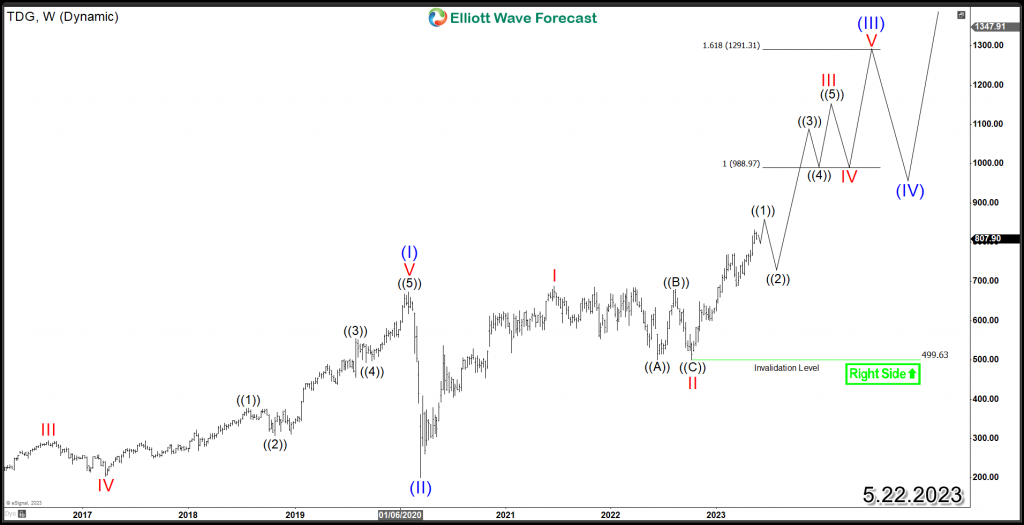 ---

Back