The year 2014 has come to an end and EWF had an outstanding year forecasting the markets for our members. We have no doubt that 2015 will be another outstanding year. We at EWF understand that nobody can forecast the markets with 100% accuracy and we will never say that we are always right in our forecasts. The only thing that we can guarantee 100% is that we are RIGHT more than we are WRONG.
Lets take a look back at some charts we posted in our members only area. Charts below are all in the Weekly time frame and we will show a Before (January 2014) and After (December 2014)
**Some labels have been removed to protect our clients privileges**
EURUSD January 4/2014 and December 6/2014 : Start of the year we told our members that a sell off will be coming when price hits the RED box inflection area. We showed that it will retrace minimum to the 50% fib level or even lower depending how strong the price action will be. Now in December price for this pair clearly shows that the move down was strong and blew past the 50% fib level.
AUDUSD January 4/2014 and December 6/2014 : Start of the year we were calling for a bounce to happen. Though the bounce did not get to the levels we were expecting it still continued in the direction that we were calling for which was more downside towards the 50% fib area.
NZDUSD January 4/2014 December 6/2014 : In January we called for a sell off after a rally. Though we were expecting the rally to break above the 2011 July high, it did not and quickly moved lower. Even though it did not break the 2011 high we clearly showed that the move to the downside was coming after a rally higher.
XAU (Gold) January 11/2014, March 15/2014 and December 6/2014 : We were calling for the bounce in January followed by more downside action. The bounce was a little stronger than what we anticipated but we continued telling our members that the downside trend was still not invalidated as you can see in the March 15 chart. Eventually it followed the working wave count and continued lower.
SPX January 4/2014 and December 6/2014 : All of 2013 and 2014 we continued to tell our members to buy the dips. What are we telling our members now at the end of 2014? We still advising to Buy the dips.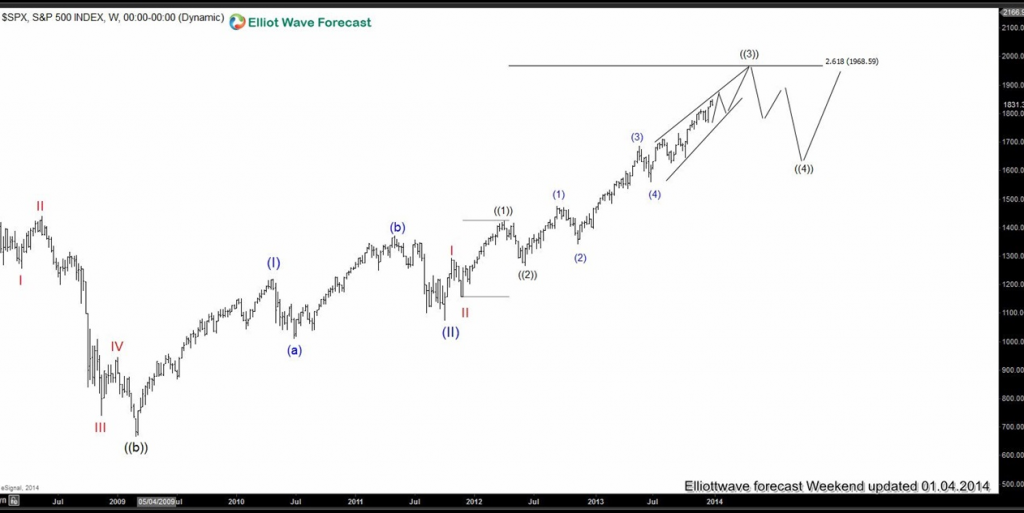 XAG (Silver) January 4/2014 and December 6/2014 : Start of 2014 we called for more downside. Now at the end of 2014 it has moved lower and is in a crucial area. What will Silver do in 2015? Only time and more data will tell.
USDCHF January 4/2014 and December 6/2014 : In January we anticipated for a small push lower followed by a bounce higher. Now in December we are anticipating 2 scenarios. Let's see what this pair does 2015.
USDX January 4/2014 and December 6/2014 : Start of the year we calling the move higher after a small dip. Now in December the Dollar Index did exactly what we forecasted.
At EWF we update our 1H charts 4 times a day and our 4H charts are updated daily so our members are always in the loop for the next move.
Start trading on the right side with EWF.
Try EWF Premiuim Plus Plan for 14 days and  you can see what we are forecasting for 2015 > 14 Day Trial
Back