Elliott Wave Ending diagonal is 5 wave structure which often occurs in last wave C of Flat pattern. Ending Diagonal has 3-3-3-3-3 subdivision, as each of these 5 waves is corrective structure (ABC, WXY or WXYXZ)
Let's take a quick look at Elliott Wave charts of $EURGBP to see what Ending Diagonal looks like and how we were guiding our members through this pair.
$EURGBP 9.19.2015 H4 Weekend Update Elliott wave chart suggests we're still in final 7th swing of wave (4) pull back, which is looking for another extension toward important technical area at 0.72026-0.71595 ( marked as blue box)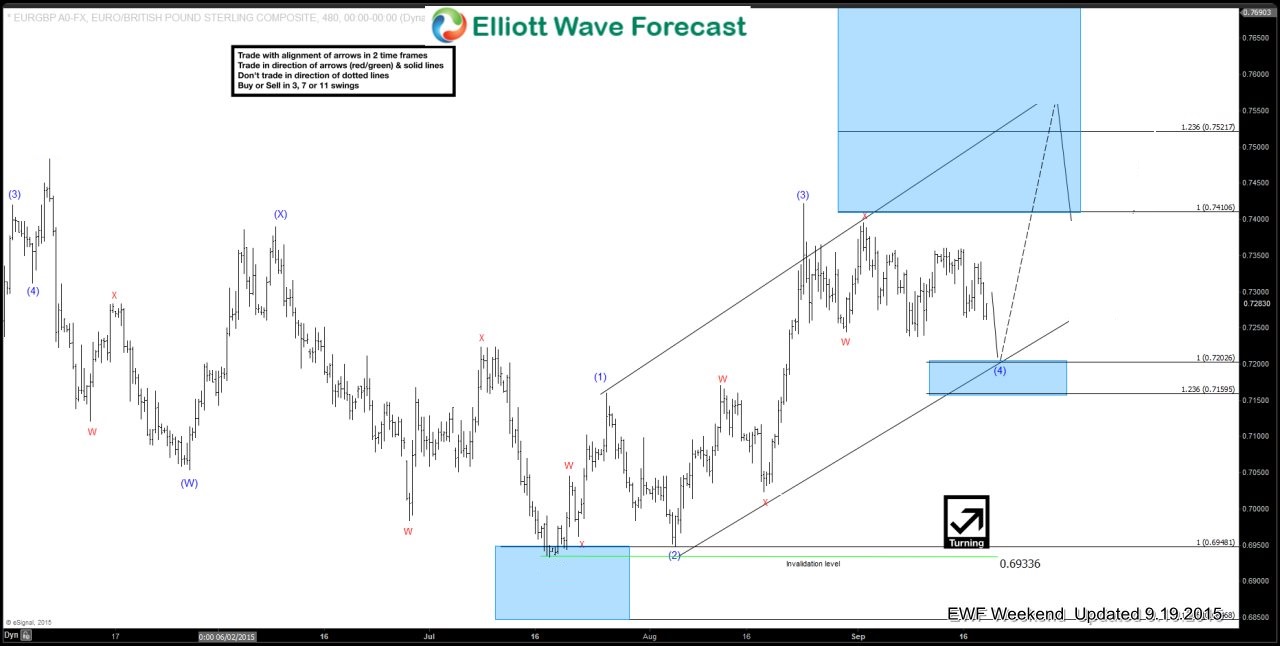 $EURGBP 9.22.2015 H1 London Update The price has reached blue box as expected and current view suggests wave (4) pull back is done at 0.7193. While the price holds above that level, more strengt should follow in wave (5) toward new highs- above the wave (3) top- 0.74217

$EURGBP 9.23.2015 H1 NY Update The price is pushing higher as forecasted. More short term strength is expected to complete wave W wave , before X pull back corrections corrects the rally from the 0.7193 low.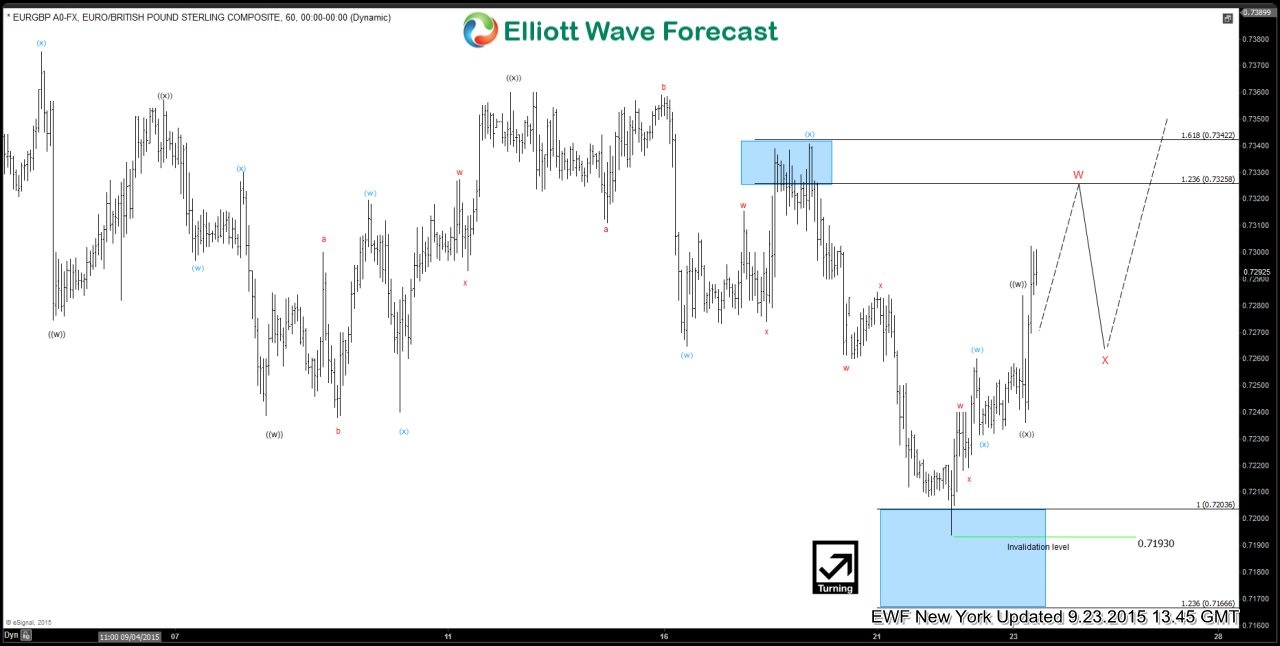 $EURGBP 9.25.2015 H1 London Update Wave W ended higher at 0.7411 and X pull back has reached 50-61 fibonacci retracement area at 0.73026-0.72768. The price is expected to turn higher again.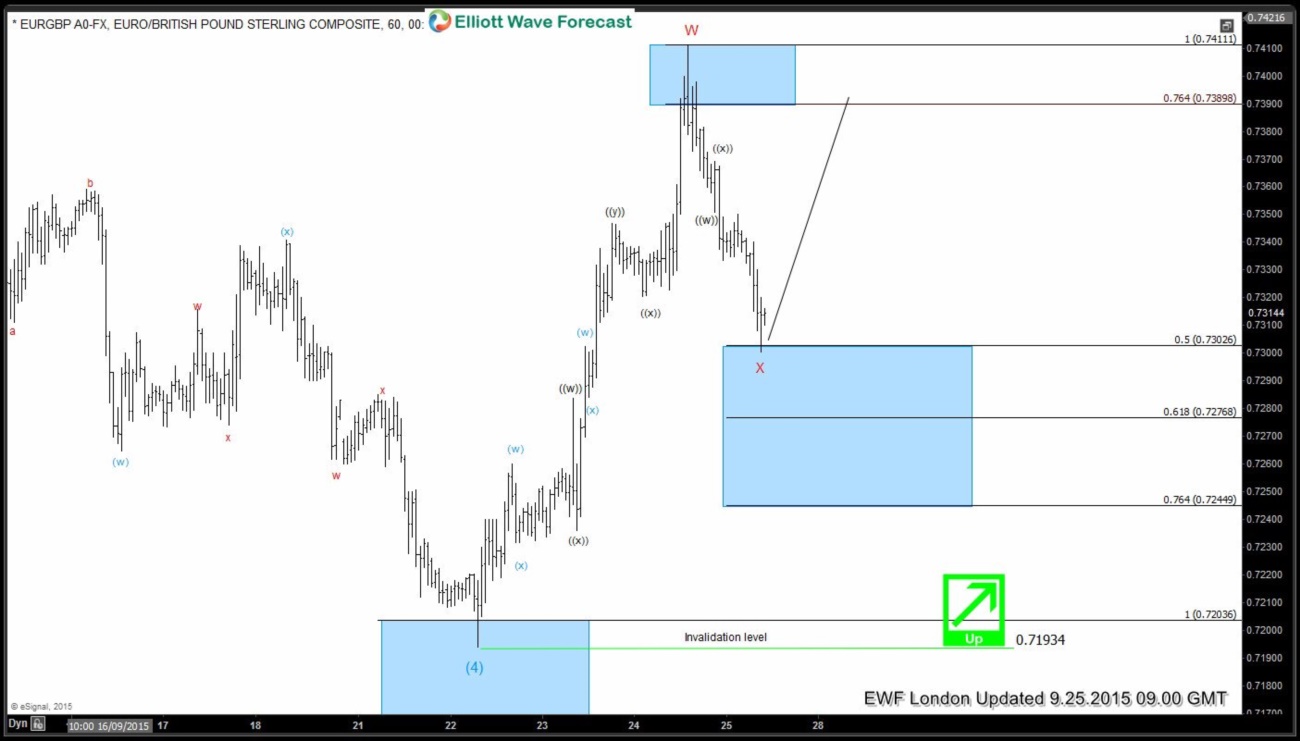 $EURGBP 9.28.2015 H1 London Update We got nice reaction right from 50 fibs.Currently at short term 61.8 -76.4 fib ret area at 0.73373-0.73228, from where it's expected to rally toward 0.618 fibonacci extensionof W-X at 0.74354-0.7469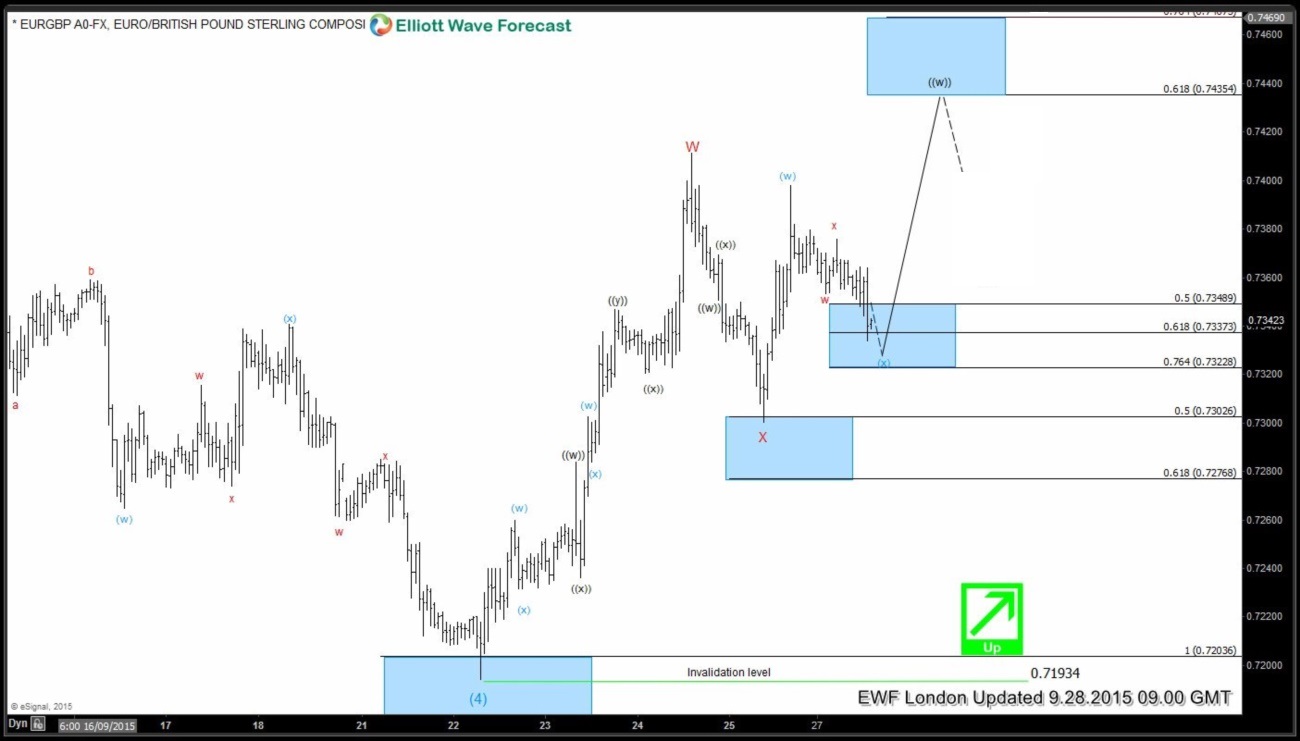 $EURGBP 9.29.2015 H1 NY Midday Update Wave (x) short term pull back ended at marked area and we got rally.
0.618 fibonacci extension area is reached at 0.74354.

Proper Elliott Wave counting is crucial in order to be a successful trader. If you want to learn more on how to implement Elliott Wave Theory in your trading, feel free to join us. You will get access to Professional Elliott Wave analysis in 4 different time frames,2 live webinars by our expert analysts every day, 24 hour chat room support, market overview, daily and weekly technical videos and much more…
If you are not member yet, just sign up here to get your Free 14 days Premium Plus Trial.
If you have any questions , feel free to contact me on twitter.
Welcome to Elliott Wave Forecast !
Back