Hello fellow traders, in this article I want to discuss with you the Gold to Silver Ratio.
Before we get into that let me explain it shortly. Well, the gold to silver says how many silver ounces it takes to buy one ounce of gold. Which basically tells us how many ounces of silver we need to purchase for one ounce of gold.
Currently, the Gold to Silver ratio is approx. at 78. Which tells us that we need 78 ounces of silver to purchase 1 ounce of gold.
But why do we need this information now, you may ask? The easiest answer for that is it could signal us potential big moves in silver or gold. When the gold to silver ratio rallies, mostly gold and silver will fall. Obviously, we need to understand that the gold to silver ratio is highly volatile and fluctuates widely which means it is not a tick by tick correlation. You can't just buy or sell accordingly to the ratio. But what you can do is you can potentially forecast weekly moves.
Let's have a look at the technical view. In the image below you can see clearly that the gold to silver ratio chart ended cycle from 03/2016 peak in blue wave (W) and blue (X) connector consequently at 07/10/17 peak (data spike is not that deep). From that high, the market ended cycle from 07/06/17 in black wave ((w)). From that low, it is already extreme. It can be the case that the black ((x)) connector is already in place at the recent high (but I also wouldn't discount another marginal new high, doesn't really matter at this stage). Which means that market should correct in 3 waves at least from that blue box lower.
Gold to Silver Ratio Daily Chart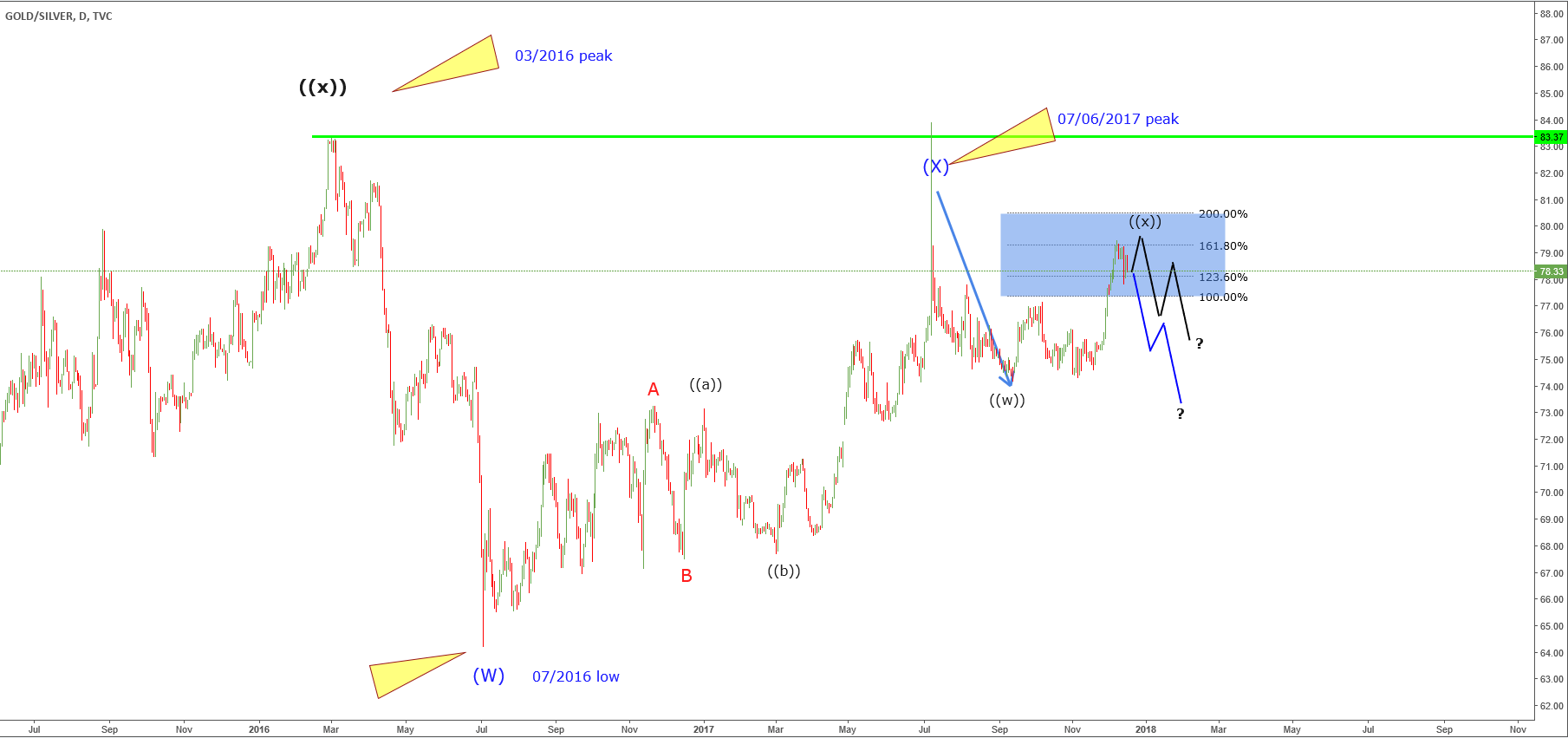 When that happens, Silver will also pullback in at least 3 waves to the upside. (As they are negatively correlated) Have a look at the Silver chart below.
Silver Daily Chart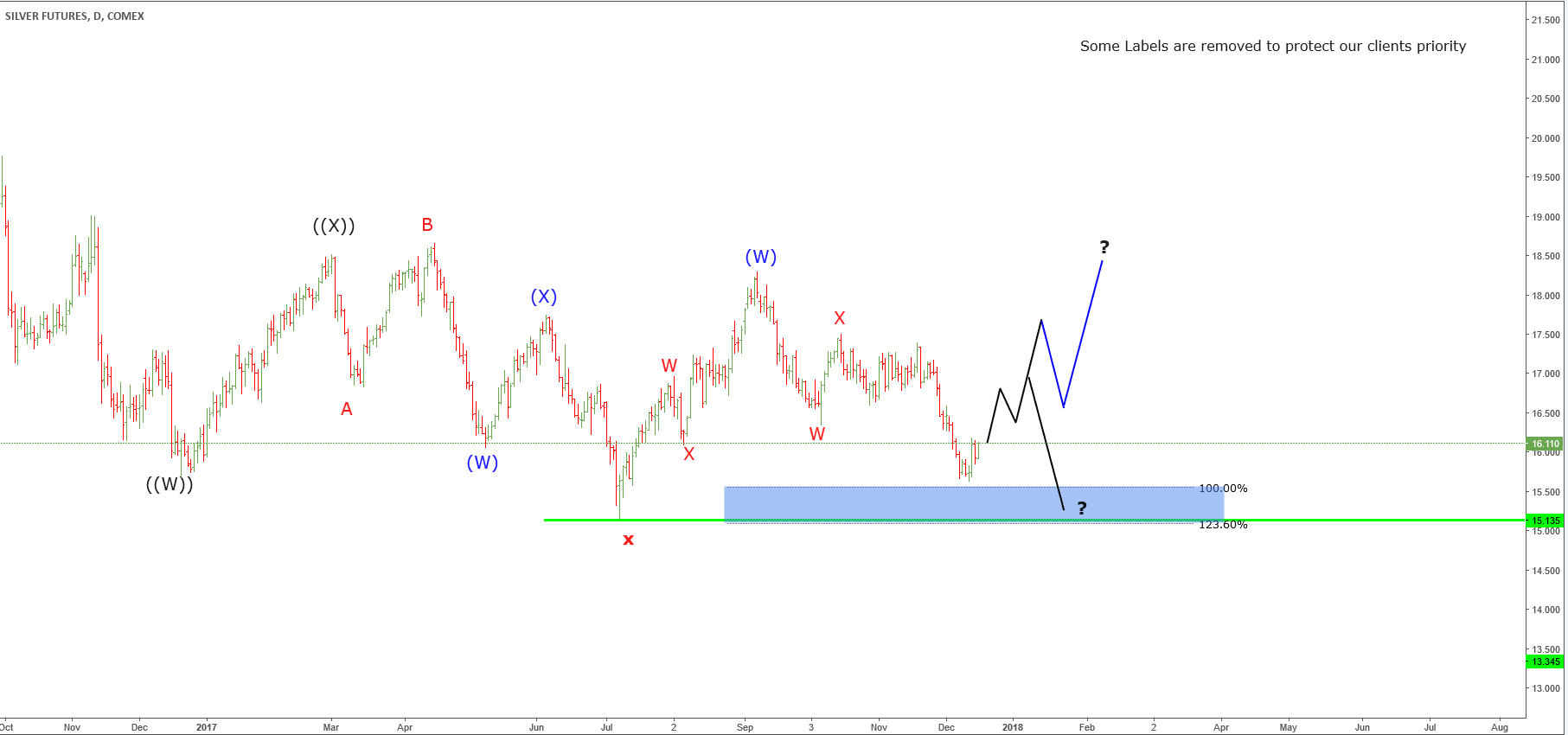 Whether silver can really start its next big to the upside (shown in blue line) remains to be seen, it is not confirmed yet and can still make another margin new low. However, silver should be supported overall. I wish you all the best and don't forget our special offer below.
We believe in cycles, distribution, and many other tools in addition to the classic or new Elliott wave Principle. To get a regular update on the market and Elliott wave charts in 4-time frames, try EWF and a 25% holiday day discount on ANY plans (Lifetime Discount!)
If you enjoy this article, check our work and join HERE to see Elliott Wave Forecast in 4-time frames for 78 instruments as well as getting access to Live Trading Room, Live Session, and more.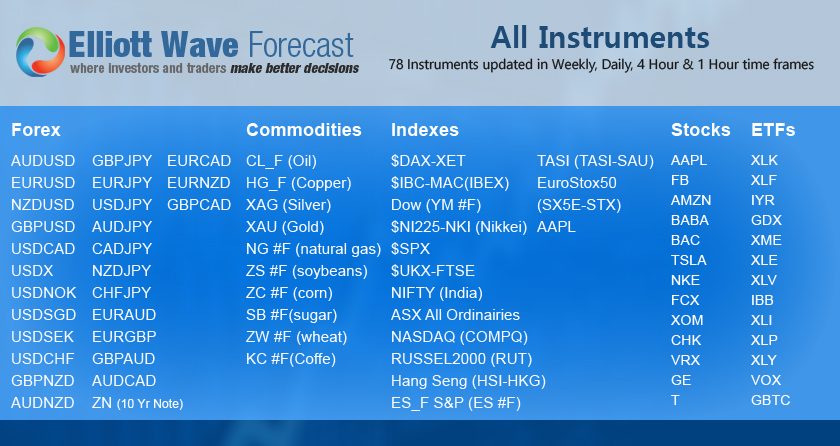 Back