In this technical blog we're going to take a quick look at $EURAUD price structure we had on 2.19.2016 to explain Ellott Wave Forecast we had back then. 1 Hour chart below presents New York Update from Februar 19. 2016 date. It suggests the cycle from the 02.09. date ( 1.6150 high) ended at 1.5538 (W) low as Expanded Flat structure ( marked as ABC red).  On the 02.17. date we got break of the mentioned low at 1.5538 , opening further extension to the downside. Market correlation and distribution analysis suggested wave (X) blue connector ended at 1.57753 high making the pair bearish against that level and allowing potential short entries with low risks.
Experienced Elliott Wave practitioners will probably recognize another bearish Expanded Flat Pattern in short term ((x)). Price had to stay below 1.5773 high for this view to remain valid. Pair did hold the level and continue lower as expected.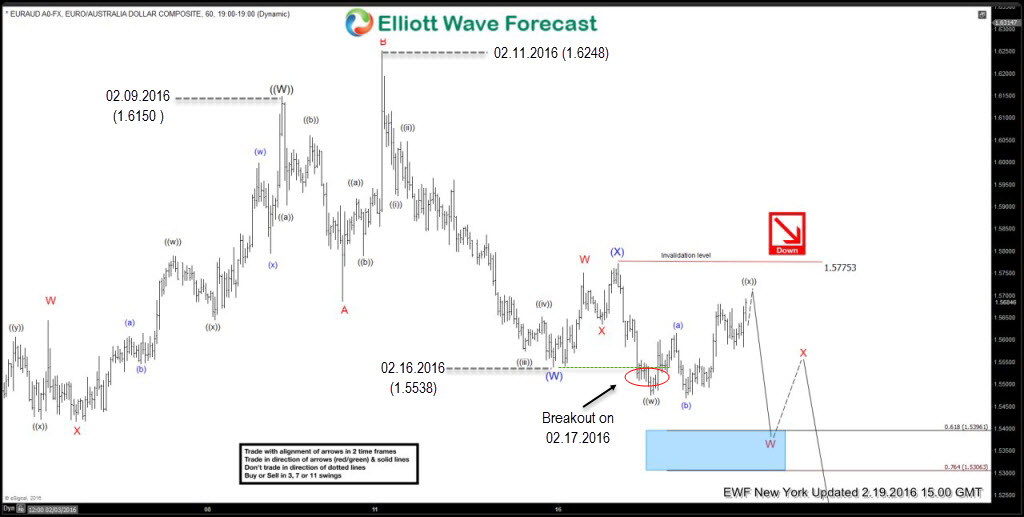 Considering that first (W) leg was labeled as Expanded Flat from the 1.6150 high, minimum target came at 1.51611 area. The price ended ((x)) connector shortly and we got decline as expected. $EURAUD reached mentioned target at 1.51611 and bounced right from there.  Due to a price structure and market correlation count has been change a little bit, suggesting cycle from the 02/11 date is taking the form of the Zig Zag pattern calling for further extension toward 1.50651-1.46346 area, which we got later as well.  Future path of the $EURAUD could be found in membership area of EWF.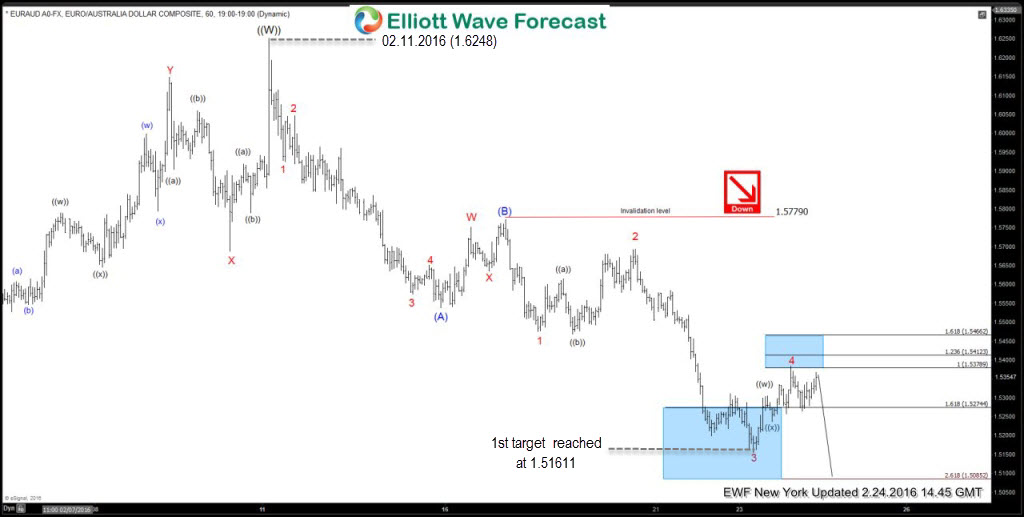 Proper Elliott Wave counting is crucial in order to be a successful trader. If you want to learn more on how to implement Elliott Wave Theory in your trading and to learn more about next trading opportunities in the Market,  try us free for 14 days. You will get access to Professional Elliott Wave analysis in 4 different time frames, Daily Elliott Wave Setup Videos ,Live Trading Room and  2 live Analysis Session done by our Expert Analysts every day, 24 hour chat room support, market overview, weekly technical videos and much more…
If you are not member yet, use this opportunity and sign up now to get your Free 14 days Premium Plus Trial.
For any questioning, feel free to contact me through e-mail vlada@elliottwave-forecast.com or in twitter.
Welcome to Elliott Wave Forecast !
Back