Trinseo (formerly Styron) is a global materials company based in Berwyn, Pennsylvania, USA. The stock being a component of the Russel2000 index can be traded under ticker $TSE at NYSE. Trinseo offers a broad line of plastics, latex and synthetic rubber.  The primary markets are automotive, appliances, electronics, packaging, tire industries, among others. In long perspective, we can see commodities like oil, rubber, cotton turning higher. However, last 18 month, strength in US dollar has created a pullback in those values. Soon, a new cycle in commodities to the upside is expected. Therefore, Trinseo being an important player in the manufacturing of synthetic materials should be a great opportunity for investors to diversify their portfolio by indirect investement in the rising commodity prices.
In the last article from August 2022, we have forecasted to see 7 swings lower into buying area. As long as 14. 16 lows held, the buying setup was active. Now, we see the lows broken and $TSE is within correction against all-time lows.  In this blog, we discuss the wave pattern and next buying opportunity .
Trinseo Weekly Elliott Wave Analysis 05.14.2023
The Weekly chart below shows the Trinseo shares $TSE traded at NYSE. First, the stock price has developed an impulse higher in red wave I of a cycle degree. It has printed the all-time highs on the 29th of January 2018 at 85.35. From the highs, a correction lower in red wave II has started and unfolds as an Elliott wave zigzag pattern. Firstly, black wave ((A)) has printed a low in August 2019 at 27.36. Then, a bounce in wave ((B)) followed an expanded flat pattern. Hereby, blue wave (B) has set a lower low at 14.16. From the low, impulsive blue wave (C) reached higher towards March 2021 highs and became a bull trap. From 76.49 highs, black wave ((C)) has been confirmed by breaking below 14.16 lows. Right now, the structure of black ((C)) allows to count 5 waves off the highs. Also, $TSE reached 18.39-0.00 area already. However, still new lows can take place. Investors can buy $TSE against the all-time lows expecting red wave II to end and a new bullish cycle in red wave III to start. The target will be towards 85.35 highs and beyond.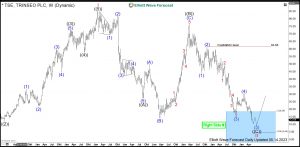 Get more insights about Stocks and ETFs by trying out our services 14 days . You'll learn how to trade the market in the right side using the 3, 7 or 11 swings sequence. You will get access to our 78 instruments updated in 4 different time frames, Live Trading & Analysis Session done by our Expert Analysts every day, 24-hour chat room support and much more.
Back