First Majestic Silver (symbol: $AG) is one of the purest Silver miners in the market. It's one of the best primary silver producers with healthy balance sheet and ample cash flow. This year, one of the most prominent mining and billionaire investors Eric Sprott has invested C$ 78 million to get a 2.3% stake in the company. We have written an article on August earlier this year alerting readers that the stock is breaking out of multi years consolidation. Since then, the stock has consolidated the gain and retested the breakout area. Let's take a look at the monthly Elliott Wave chart update below
First Majestic Monthly Elliott Wave Chart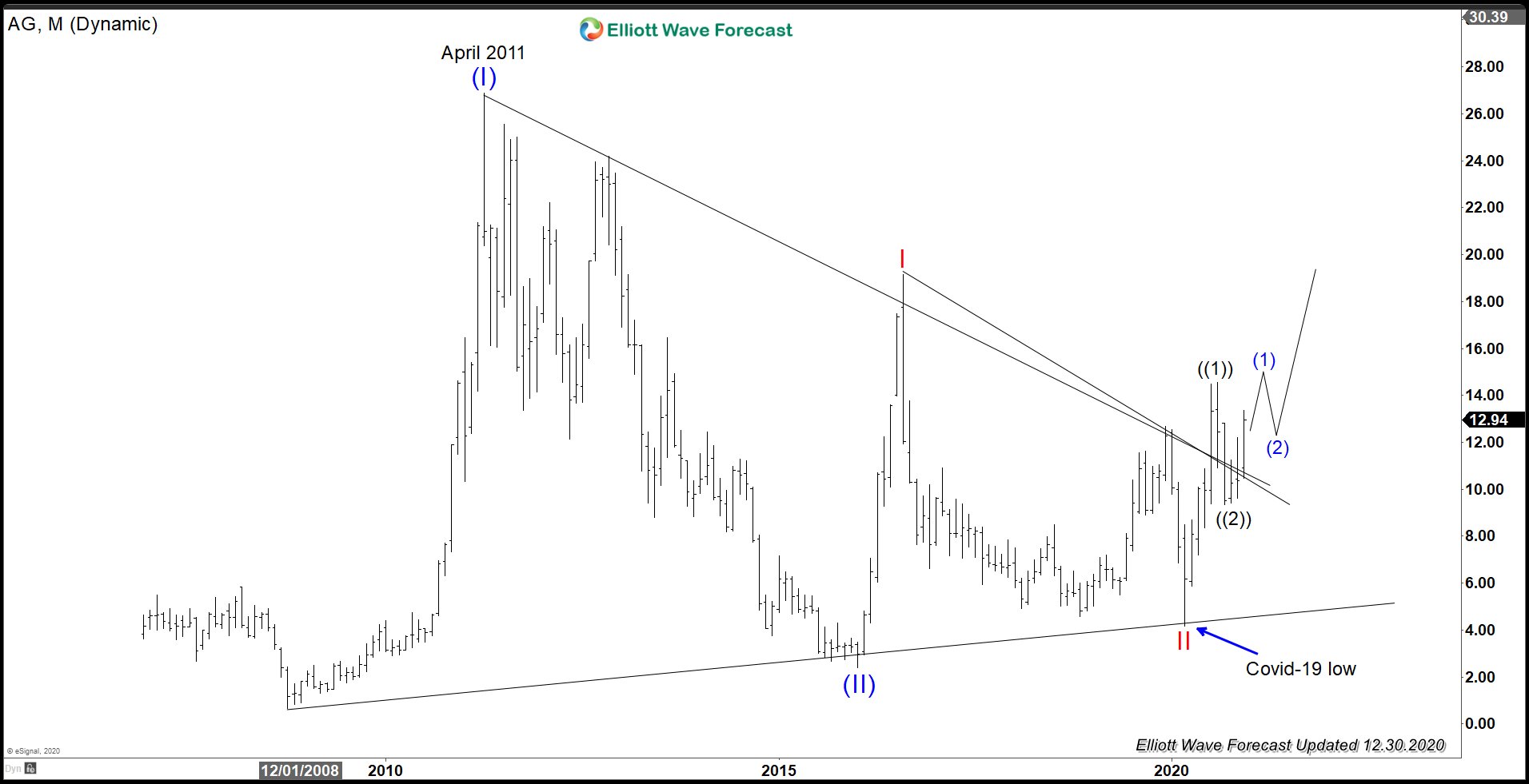 The monthly chart above shows the stock has broken out the multi-year triangle consolidation. One way to interpret the structure is calling it as a nest. The initial rally to April 2011 peak at $26.88 ended wave (I). Wave (II) pullback ended at $2.4. Then the stock is doing a nest in wave (III). Up from wave (II) low at $2.4, wave I ended at $19.15 and pullback in wave II ended at $4.17. The miner then starts to rally again and broke above the multi-year triangle in wave ((1)) at $14.57 on August this year. A retest in wave ((2)) ended at $9.33 and the stock has started to turn higher again. If the proposed count is correct, the stock should perform very well in 2021. It should rally together with the underlying Gold and Silver in a secular bullish precious metal market.
Let's look at shorter cycle below:
First Majestic 4 Hour Elliott Wave Chart
4 Hour Elliott Wave chart of First Majestic above shows the rally from September 29 low ($9.44) is in progress as an impulse. A break above wave ((1)) high at $14.57 will confirm that a new bullish cycle has resumed. We expect this to happen in 2021 as the stock continues to outperform. As far as dips stay above September 29 low ($9.44), expect the stock to extend higher.
If you'd like to get regular Elliott Wave updates in stocks, Indices, Forex, and commodities, feel free to check our trial –> 14 days FREE Trial.
Back