American Outdoor Brands, formerly known as Smith & Wesson Holding Corporation, is an US American manufacturer of outdoor sports and recreation products. The company holds currently 18 brands of outdoor equipment. Headquartered in Columbia, Missuri, USA, investors can trade it under the ticker $AOUT at NASDAQ.
American Outdoor Brands Daily Elliott Wave Analysis 06.06.2022
The Daily chart below shows the American Outdoor Brands stock $AOUT traded at Nasdaq. From the all-time lows, the stock price has developed an initial cycle in wave I (not shown) of cycle degree. It has printed the all-time high on July 2021 at 36.62. From the highs, the pullback in wave II has unfolded as a double three pattern. On its own, the ((W))((X))((Y)) double three structure shows a textbook quality.
First, the decline in wave ((W)) has made an intermediary bottom in October 2021 at 21.71. Then, the bounce in black wave ((X)) has set a connector in November 2021 at 25.26. Finally, black wave ((Y)) has developed another 3 swings being swings 5-6-7 of the overall 7 swings structure. Hereby, the 5th swing as blue wave (W) has reached the 0.618-0.786 extension area being 16.01-13.48 area. There, a bounce in swing #6 in wave (X) has taken place. From February 2022, 7th swing lower as wave (Y) of ((Y)) has perfectly hit the 100% extension level being 10.27. The main view is that the wave II has ended in May 2022.
Investors an traders should be long from 10.27-6.73 area already. While above May 2022 lows at 10.13, the wave III might be already in progress. The target will be 46.77-69.42 area and even higher. At current prices between 11 and 12 US Dollars per share, $AOUT offers a great reward-to-risk ratio.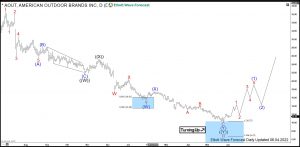 Get more insights about Stocks and ETFs by trying out our services 14 days . You'll learn how to trade the market in the right side using the 3, 7 or 11 swings sequence. You will get access to our 78 instruments updated in 4 different time frames, Live Trading & Analysis Session done by our Expert Analysts every day, 24-hour chat room support and much more.
Back