In Jan 13 Live Trading Room, we presented an idea to sell EURAUD bounce at 1.4234 as the pair looks to have impulse structure from 1/6 high and another leg lower in wave (v) is ideal towards 1.407. At that time, the pair is bouncing in wave (iv) and expected to complete at 1.422 – 1.4255. We sold the pair at 1.4234 and reached the target for 154 pips. Below is a clip taken from January 13, 2017 Live Trading Room.
EURAUD Live Trading Room Setup
EURAUD 1 Hour chart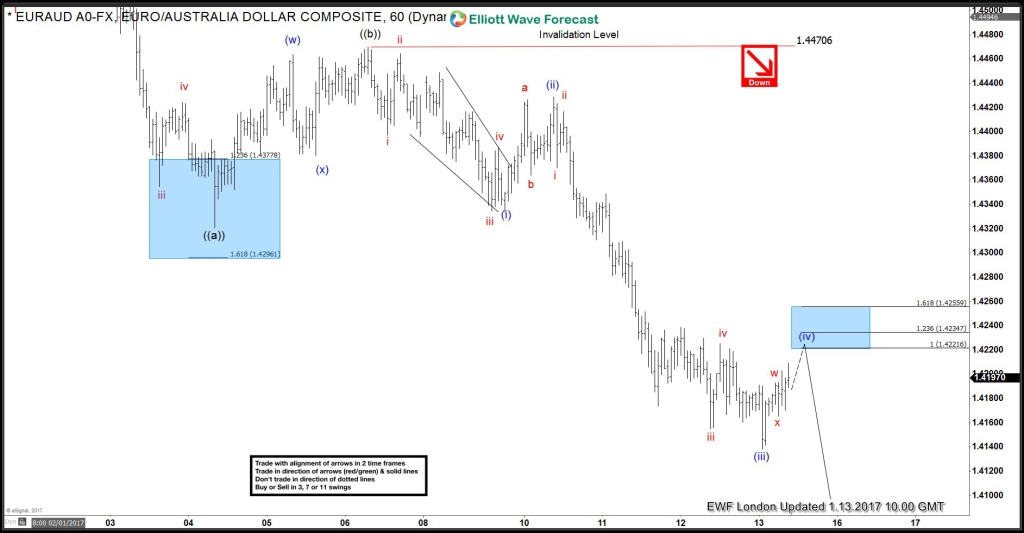 Below is the trading journal that we presented to the member

The trade parameter has a risk:reward ratio of 2.7, meaning reward is 2.7 times the risk. It has reached the target for 154 pips profit.
If you are interested to learn more about our service, we invite you to take our 14 days risk free trial here –> 14 Day Trial  With the risk free trial, you can get access to our service without commitment, including: Professional-grade Elliott Wave forecast for 52 instrument in 4 time frames, Live Trading Room, Live Sessions, 24 hour chat room, and much more!
Back