STEP 1: Select Any One Group of Instruments
GROUP 1
26 Instruments
FOREX:
GBPJPY,EURJPY,USDJPY,AUDJPY
CADJPY,AUDUSD,EURUSD,GBPUSD
NZDUSD,USDCAD,USDX,EURAUD
EURGBP,GBPAUD,GBPNZD,ZN (10 Yr Note)
INDICES:
S&P,Dow (YM #F),Nikkei
FTSE,DAX,IBEX
COMMODITIES:
XAU (Gold),XAG (Silver)
HG_F (Copper),Oil
GROUP 2
26 Instruments
FOREX:
USDCHF,USDNOK,USDSGD,USDSEK
CHFJPY,NZDJPY,AUDCAD
EURCAD,EURNZD,GBPCAD
INDICES:
Nasdaq (NQ #F),ES_F S&P (ES #F)
Russell (RTY #F),EuroStox50(SX5E-STX)
Hang Seng (HSI-KKG),Asx (XJO-ASX)
Nifty (India)
COMMODITIES:
Sugar (SB #F),Wheat (ZW #F),Coffee (KC #F)
Natural Gas (NG #F),Soybeans (ZS #F),Palladium (PA_F)
CRYPTO-CURRENCIES:
Bitcoin (BTC),Ethereum (ETH),Litecoin (LTC)
GROUP 3
26 Instruments
STOCKS:
AAPL,FB,AMZN,NFLX
GOOGL,MSFT,NVDA,AMD
BABA,BAC,TSLA
NKE,XOM,GE,T
ETFs:
SPY,XLK,XLF
IYR,GDX,XME
XLE,XLV,XLI
XLP,XLY
What you Get ?
26 instruments
Market Overview
Sequences Report
1 Hour Elliott Wave Counts (NY & Asia)
4 HR, Daily & Weekly EW Counts
Intra-day videos
What Our Members Are Saying
"I have been in trading business for 8 years. I have to admit that my starting point as a trader was pretty bad as I did all the beginner mistakes one can possibly do and received several margin calls on prior accounts. Then I read about Elliotwave methology and it piques my curiosity, so I decided to try several different service provider at the beginning. Unfortunately I was disappointed as these service didn't provide me any good market insight and I still continually failed. I kept searching for something better until I came up with EWF. In fact, I was ready to quit from trading if it didn't work out. EWF really transformed my mindset as a failed retail trader to a professional one.They turned me from one of the 95% people losing money, to the 5 % traders who make profits consistently each month. EWF provides a clear well tested method with strict rules, and if you follow it to the letter, it can make you become a successful trader..."
Panagiotis Kalofolias | June 2016 - Elliott Wave Forecast Member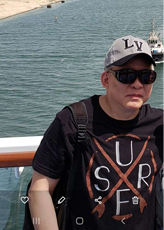 "Since first day I subscribed at Elliottwave-Forecast, I've been watching improvements on my trading, as they work much as possible in order to deliver you not only awesome and high-accuracy, but education materials and live sessions, or webinars, that give you an in-depth view of how really the market moves. Also, I would like to note that their 24 hour chat is highly helpful, with analyst giving you fresh updates of the market, specially when there are volatility on the air and when it's needed, they notify you about adjustments in real-time. When you pay for this service, you start to see and analyze the market with a never-seen outlook, which you won't find in another forecasting services, because Elliottwave-Forecast REALLY does what they tell you in their slogan: "make better decisions". Thanks to EWF, also, I've been trading several instruments which I had fear to trade, as I didn't know how to analyze them, but when you find that there are correlations in the markets, something that EWF teaches you, absolutely you erase that fear from your trading day!"
R.L Kwan | June 2016 - Elliott Wave Forecast Member