By signing up for 14 days Trial, you have taken the first step toward becoming a successful trader.
We cover 50+ instruments in total which are listed below:
USD group : $TNX, AUDUSD, EURUSD, NZDUSD, GBPUSD, USDCAD, USDX
Yen group : GBPJPY, EURJPY , USDJPY, AUDJPY, CADJPY
Crosses : EURAUD, EURGBP, GBPAUD, GBPNZD
Indexes: $DAX-XET, $IBC-MAC(IBEX), $INDU, $NI225-NKI (Nikkei) , $SPX , $UKX-FTSE
Commodities : CL_F (Oil) , HG_F (Copper), XAG (Silver) , XAU (Gold)
Plus instruments:
Commodities: NG #F (natural gas), ZS #F (soybeans), ZC #F (corn), SB #F(sugar), ZW #F (wheat), KC #F(Coffe)
Indexes: NIFTY (India), ASX All Ordinairies, NASDAQ (COMPQ), RUSSEL2000 (RUT), Hang Seng (HSI-HKG), TASI (TASI-SAU), EuroStox50 (SX5E-STX), ES_F S&P (ES #F), AAPL.
Forex: USDNOK, USDSGD, NZDJPY, AUDCAD, AUDNZD, EURCAD, EURNZD, GBPCAD, USDSEK,CHFJPY, USDCHF.
We often get asked "How should I use EWF service to get the best of it?"
In the text below you will find some useful tips on how to make the most of your Trial subscription. If you follow these suggestions, you'll learn a lot from our Market experts, improve your trading ability and become a more profitable trader.
1.Watch Daily Technical Video every day. Founder & Chief Currency Strategist Eric Morera will give you a quick technical preview of the most important instruments for the upcoming day. Technical Video usually lasts 15-20 minutes. Time of publishing 03:00 – 04:00 AM GMT.
2.Follow Live Analysis/ Trading Sessions. Every day there are two live sessions done by our Market Experts. We strongly advise you to follow them as often as you can, or watch the recordings later. You will learn a lot about our Trading System, Elliott Wave counting, Money& Risk management and you'll get the day's best trading suggestions. Each live session lasts approximately 90 minutes.
London Live Session– Starts @ 5:00 AM EDT / 09:00 AM GMT . Hosted by Daud Bhatti.
Live Trading Session– Starts @ 7:00 AM EDT / 11:00 AM GMT .Hosted by Hendra Lao.
NY Live Session– Starts @ 9:45 AM EDT / 1:45 PM GMT . Hosted by Eric Morera.
3.Use 24h Chat Room. You can follow written analysis there done by EWF chat moderators. If you need a support considering our charts or the newest updates of 26 regular instruments , Chat room is there for you 24h a day.  For any question on Plus instruments, you can use EWF Plus Chat , which is open from  9:30 AM -4:00 PM EST (2:30 – 9:00 PM GMT) Monday – Friday.
 4.Read Market Overview. You'll get there an idea of an overall current market condition. EWF trading recommendations can also be found there. It's updated every day at 12:30 – 13:00 GMT
 5.Follow Elliott Wave Counts. Make sure you understand how to properly read our charts. The trend direction is marked by Green, Red or Black arrow and it's recommended that you trade accordingly. Invalidation levels, potential reversal and take profit areas are marked there as well.
-H1 Charts 
NY charts updated at 2:45 PM GMT,
Asia charts at 3:00 AM GMT
– 4HR updated Monday – Thursday (21:00 – 22:00 GMT) & Saturdays
-Daily & Weekly Elliott Wave Counts updated on Saturdays
6.Watch Weekend Webinar. Weekly session takes place on Saturdays at 2:30 PM EST / 7:30 PM GMT (UK Time). You'll get the expectation for the upcoming week. Lasts approximately 90 minutes. It's hosted by Eric Morera.
Remember: if you miss any of these Live webinars, you can watch the recordings later.
7. Watch Strategy Of The Week / Day Video We present there high probability trading opportunities with precisely determined entry areas, invalidation and take profit levels. At the same time, we're teaching our members how to trade with EWF proprietary trading system.
In case you need any additional information or  you have any questions about your account, feel free to contact our live chat support. The green "Chat Now" button at the upper right corner of the page will take you directly there.
The following picture shows what EWF membership area looks like. All the essential features mentioned above are underlined.
If you are not member yet, just sign up now to get your Free 14 days Trial.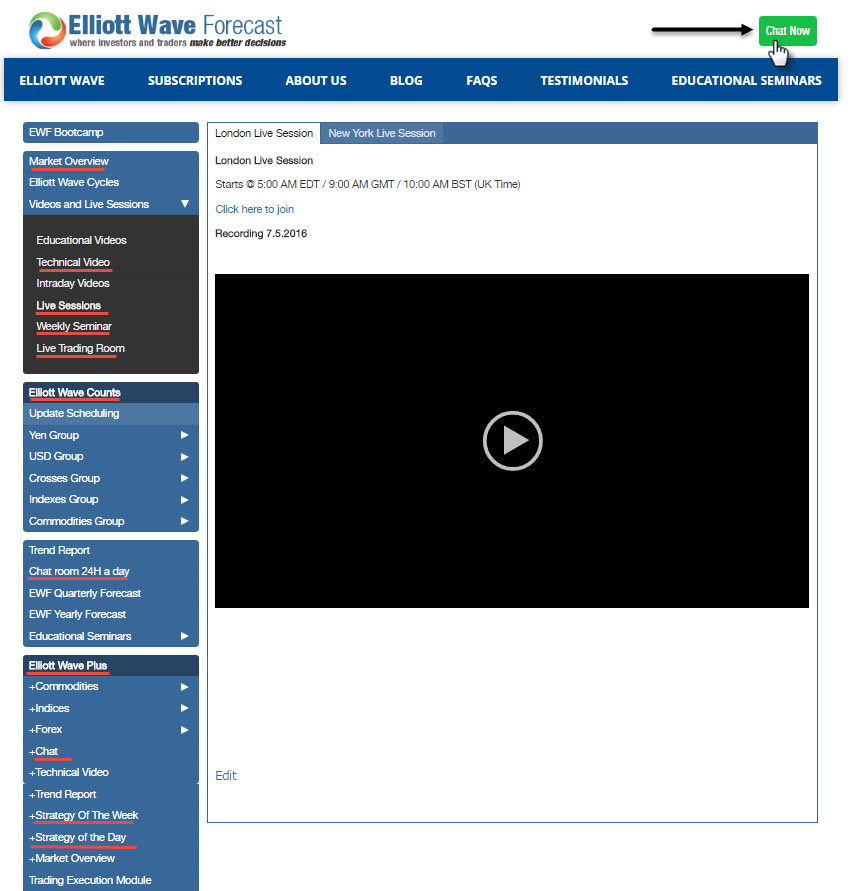 Back